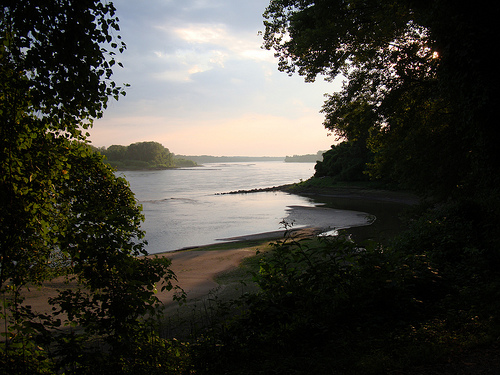 It's been a long while since I've posted anything here! I haven't stopped camping or cast iron cooking, but like many bloggers, my writing is in fits and spurts. I've spent the last several months working on my Master Knitter certification (a great cold weather pasttime) and preparing for my next adventure -- Missouri's Katy Trail. We won't be cooking on the trail, but it's definitely "backroads."
The Katy Trail is a recreational rail trail that runs 240 miles in the right-of-way of the former Missouri–Kansas–Texas Railroad. Running largely along the northern bank of the Missouri River, it is the country's longest "rail trail." The Katy is crushed limestone surface, open year-round for use by hikers, joggers, and cyclists year-round.
Bill and I have been riding our bikes regularly for a few years. We're very fortunate to be within a mile of the Turkey Creek Streamway Trail, a gorgeous six-mile paved trail that winds through woods within the city of Merriam, Kansas, ending up at Waterfall Park, near the city's farmers' market.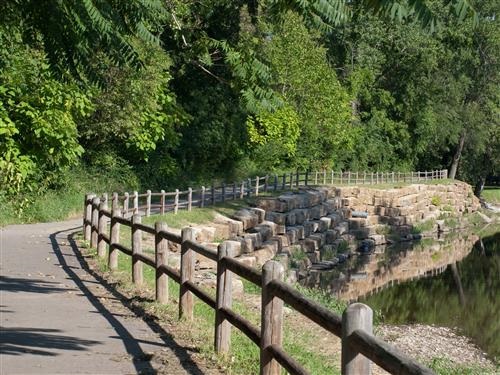 Whenever the weather and our schedules allow, we ride, and it has become my favorite part of any day. We've also done a good portion of the Gary Haller Trail that runs from Kansas City, Kansas through Shawnee Mission Park and ends in Olathe.
Last year we started planning our Katy trip, challenged by not knowing exactly how far we could ride, or the conditions of the trail. Bill let me make the arrangements and I decided that we could safely plan on 25 miles a day, and probably 40. (We're still not sure how 40 is going to work for us!) The website bikekatytrail.com has provided a tremendous amount of information about lodging and food choices.
Bill has a great road bike, a Raleigh R400. He smokes me on our trail! I had been riding a late 90s Giant Rincon, which was fine for our little rides but doesn't fit me properly. I'm almost 6' tall, and the bike is a medium. I decided to invest in a "new" hybrid bike, and bought a 2012 Giant Sedona on craigslist, a men's XL.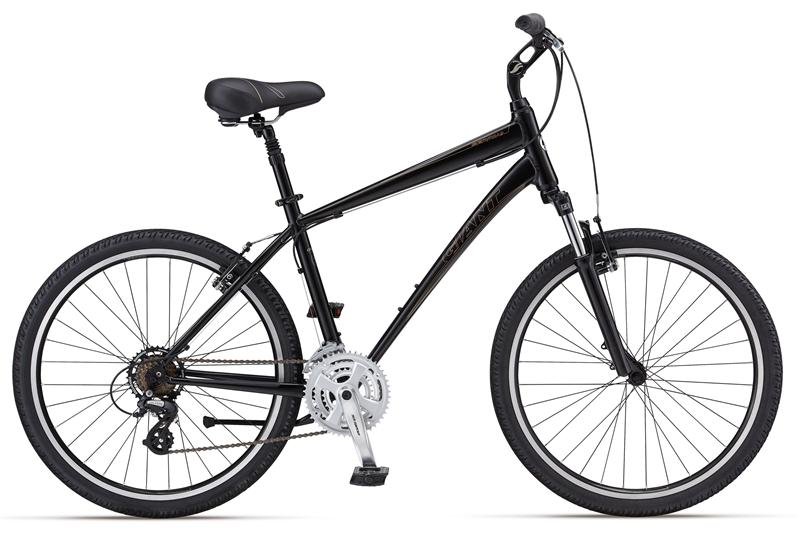 It really feels like a Cadillac with its big, cushy seat and upright position. Bill still outpaces me on pavement, but I've been concerned that his 25 mm tires are going to be problematic on the Katy (and that the road seat is going to be very uncomfortable, especially since he refuses to ride in anything but blue jeans). He has the opportunity to borrow a very expensive mountain bike from a friend, but we're both concerned about being responsibility for it.
Over the weekend, we took a little road trip to Ottawa, KS, to test the bikes on the Prairie Spirit rail trail, and he's convinced that the road bike will work, although he may borrow the comfort seat off my old Rincon.
Just over a week (and six working days) until we leave! I'm so excited! My next post will be about our preparations.